The Jonahre trust will fund arts initiatives that follow a Biblical paradigm for using the visual arts globally as means of presenting the Gospel of Christ to the world's diverse ethnical people groups through stories.
Jonahre Art and film bring the witness of Biblical Stories for each culture to speak to the souls of people in ways to which they can relate.
The Ultimate Goal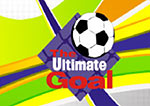 South African Sports Coalition (SASCOL) is an initiative by predominantly church leaders representing a large constituency of South African churches. The Ultimate Goal is a project of SASCOL and is the outreach initiative taking place during June and July 2010.
The Ultimate Goal is a network of local and international churches, para-church organisations and ministries all working together on one common goal: To bring hope and change to South Africa.
Vision
Mobilizing and empowering the body of Christ to bring the Gospel of Jesus Christ to the world through the platform of the 2010 event.
Goals
To train and mobilize at least 2000 churches in at least 600 of South Africa's towns and cities to run some form of outreach during the event.
Reach about 14 million people with the Gospel during the 30 days of the event.
To have soccer related outreach activities in 40 African countries.
Opportunities to serve
Prayer
Resources
Training /Envisioning
Communication / Call Centre / Administration
Social Responsibility
Sports Ministry
Creative Arts (Arts In Action!)
Touring Team Hosting
Service Outreach
Finance
Letter From Eugene Rens, National Govenor — Arts In Action